The Bentley was/is Identical in every way to the Rolls-Royce Cloud except with the Bentley Grill and Flying 'B' Mascot (Hood Ornament). Therefore—This also is the quintessential vintage wedding car!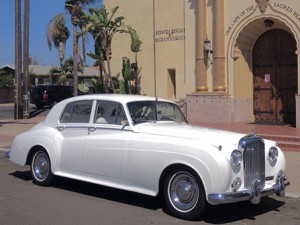 When you think of the ultimate vintage wedding car, all the magazines and TV shows feature a Rolls-Royce or Bentley Cloud.
This 1956 Bentley can be yours to enjoy like Royalty on your wedding day.
This vintage wedding car is available for any type of transportation transfer you may need from home to ceremony, or ceremony to reception, or reception to you final destination on your wedding day. Or choose any combination of or all of the above!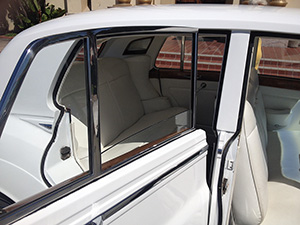 This 1956 vintage Bentley (we call him Ben) is finished in elegant snowflake white with a matching wedding white interior. When you enter you are surrounded in the elegance of Circassian Walnut. Of course she is air conditioned and has a marvelous sound system playing phenomenal background music.
Make sure your photographer/videographer have plenty of time to capture the ultimate beauty of your Royal Entry and Exit as you 'Ride in a Bentley'.